June 24th 2012 - San Gabriel Mountains, CA

Hiking to Eaton Canyon Falls. Yay!!
March 6th 2012 - Hollywood, CA

I hiked up to Dante's Peak in Griffith Park this morning with a friend. We then went to Sabor & Cultura for coffee before I started my day of sewing. I am finishing up a new batch of jerseys for a fashion show I am doing in San Diego this weekend. Hooray. SHIFTY jerseys re
February 27th 2012 - Beverly Hills, CA

I biked from Santa Monica & Sepulveda over to LACMA then back over to Beverly Hills to celebrate my friend's new job. It's so beautiful out. The entire city smells of jasmine. I stopped by the Gagosian Gallery and saw Damien Hirst's spot paintings.
February 12th 2012 - West Los Angeles, CA

I biked over to the YMCA to swim. I LOVE to swim. I see another triathlon in my future.
January 26th 2012 - Santa Monica to Echo Park Los Angeles, CA

I biked home from Santa Monica. 13 miles after a full day of work. I actually felt happy when I got home instead of just tired.
January 20th 2012 - Anaheim, CA

I went to NAMM to see the cutting edge of music technology.
January 16th 2012 - West Los Angeles, CA

Desert Palm Spring is a pretty great place to view the stars from a hot tub.
January 4th 2012 - Silverlake, CA

85 degrees outside!! What a great day for a bike ride.
December 30th 2011 - Boston, CA

Heading home after a fantastic trip to the East Coast. No snow but lots of fun.
December 14th 2011 - Silverlake, CA

I won 1st place for my French Macaron recipe at the cookie party.
December 7th 2011 - Los Angeles, CA

Knee surgery.
November 22nd 2011 - Boston, CA

Yesterday I saw a man riding his bike in USA flag underwear. They were Speedo Style underwear. It was funny but not sexy..
April 25th-28th 2011 - Echo Park, Hollywood, Glendale, CA

I rode from Echo Park to Holly wood all this week to a freelance design gig that was in my old neighborhood near Hollywood and Western. It was nice to return to my old haunts of Sabor Y Cultura, the Armenian grocery stores and Hollyweird. Today I also rode to Glendale from Hollywood to get to my networking class. It was a really fun ride.
April 19th 2011 - West Hollywood, CA - Crank Sturgeon

I rode over to West Hollywood tonight to see a performance that my friend from Mass. Art was doing. He is a sound artist and is on tour. He is the magnifiscent Crank Sturgeon...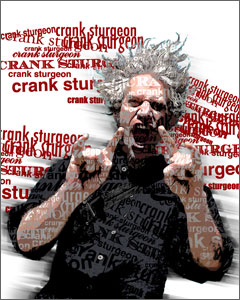 April 12th 2011 - Elysian Park, CA - Hawk Watch

I took my almost full grown kitten for a ride on my bike today to Elysian Park. IThere is not a nice way to walk to the park from my house so I figured if I got her there faster we could have a better time walking around. I put her in a bag and zipped it closed so she couldn't jump out or get scared by the traffic. She was incredibly calm and we made it to the park with no incident. We walked around while being watched by a very interested giant hawk. After the park we went to blue collar and bought the kitten a new toy.
April 10th 2011 - Downtown Los Angeles, Cyclavia

My friend Amy and I joined in the fun of 7 miles of closed city street bike riding. Cyclavia was incredibly run and attended. I was amazed to see so many bicylists for so many hours. It was a river of people on bikes of every variation. There were people biking with their children, their dogs, with their parrots, tall bikes, recumbent bikes, folding bikes, unicycles and hundreds of smiles. Every cafe and store along the route was buzzing with activity. I wish I that there were that many bikes on the street every day; now we know that it is possible that there could be. I hope that people who were biking today who don't normally ride are inspired to go out a bit more on their bikes. Shot with my Flip. Music Verago-go - Ultraviolet. Edited in iMovie.


January 23rd 2011 - Hansen Dam, CA - 75° and windy.

I went to the last SoCal Cross race of the season today. It was a beautiful day out at Hansen Dam and a very bumpy course I was told by the riders. I officially have my first sunburn of the year. I will post more pics later and some video but I have to post this now. I saw this van on my way home...... now that's a bike pile.
January 18th 2011 - Echo Park, CA - Hot

Holy Cow! It's 82° here but it feels like 90°. Just walked my friend to the bus that will take him to L.A.'s Fly Away Bus at Union Station which goes to the airport for $7. a ride.
January 17th 2011 - Atwater Village, CA - Bikram's Yoga

Hooray, I biked to my Bikram's Yoga class today. One and a half hours of sweaty yoga then I biked back home and made it up the Allesandro Hill. I congratulated myself with a coconut water. Yum!
January 15th 2011 - West Hollywood, CA ALC ReUnion Party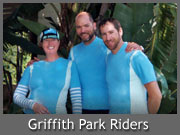 I rode to West Hollywood today to attend a reunion party for Aids/Lifcycle Ride to end Aids. I did it in 2005. All 600 miles of it and it was a fantastic experience. I ran into Randy Cruz there, T.J. from Orange 20 and James Ray who I rode with in 2005 along with Gary, my best buddy Dean and his now husband Michael. James is now helping run the whole ALC shebang.
I was really inspired to start making my own jerseys while looking for jerseys for this ride back in 2005. I was so bummed out by what was out there I decided that I had to make my own for me and my ridng partners. We called ourselves the Griffith Park Riders because that's where we trained everyday.
December 25th 2010 - Oxnard, CA - Christmas!

We took our bikes to Oxnard with us for the long weekend. What a blast! It was a lovely time even the kitten had fun. Beautiful sunsets, delicious food, games, biking and fantastic friends.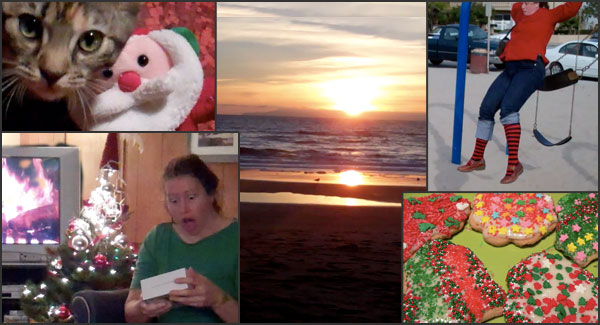 November 28th 2010 - Glendale, CA The Turkey Trot ~ SoCal Cross Race

I shot these videos while selling my jerseys at this race. I edited them too. Yea, for my new Flip Camera and iMovie. More photos to come.....




November 27th 2010 - Craigslist - Steenbeck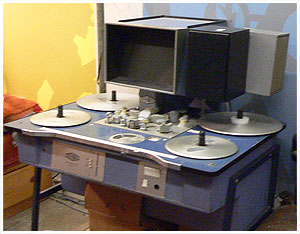 I sold my Steenbeck today. A Steenbeck is a viewing machine used to edit 16mm or 35mm film which was the standard of editing for most of the life span of movie making before the digital world took over. It used to be $25. an hour to rent time on one at a professional studio and the time on them was fought over at every film school. I am so glad that I was able to have one in my possession for several years. Of course I didn't use it nearly enough and it took up a lot of space so I had to finally come to terms with selling it.
It went to a good home to a guy named Joel who is making a movie about tearing down Yankee stadium. He also has a Nagra. Jealous. He said if I ever need to use the Steenbech to give him a call. I told him if he had a time machine he'd be rich.
November 26th 2010 - Little Tokyo L.A., CA - Dance Party!!!
I biked downtown to meet up with my friends at Hungry Beat a fun dance night at Senor Fish in Little Tokyo.. For L.A. it was pretty chilly last night. It was in the low 40's brrrrr.
November 25th 2010 - Happy Thanksgiving!!!
We spent the day with our friend's family in Tustin. Yum yum .The ticklemonster attacked the children.
November 23rd 2010 - Bikey video

I'm wearing one of Alec Schwarz's awesome bike hats from Bike Summer 2005, a scarf I made and a vintage wool jacket I tailored to fit me.
November 19th 2010 - Los Angeles, CA - My Birthday!!!
Hooray. I am finally old enough to buy booze.
November 18th 2010 - Downtown Los Angeles, CA
Rode my bike downtown to buy some fabric, needles and thread. I went crazy with fabric and had to take the bus home. On the way back a man with a prosthetic leg boarded the bus. A twenty year old woman let him literally climb over her crossed legs to get in the seat that someone else gotten up to give to him. I let her have it but she took no responsibility for having done anything wrong. AHHH. Then I found out that the injured man had lost his leg because he was hit by a drunk driver. I am thankful for being healthy.
November 16th 2010 - Los Angeles, CA - Fancy meeting you here
Rode my bike to school today. On my way home, as I was biking down Santa Monica Blvd., I ran into Aurisha Smolarski who was biking up Vermont Ave. Yea!! We used to bike all over Boston together. Then, ten years ago we moved here, to Los Angeles. She now works for the LACBC while she is getting her Masters in Psychology. Go Aurisha!! :)
November 13th 2010 - Long Beach, CA -
SoCal Cross Race
Dorothy's Wong's Birthday!! and SoCal Cross race at El Dorado Park in Long Beach. What a fun day. Click here to view more photos.
My favorites from the day...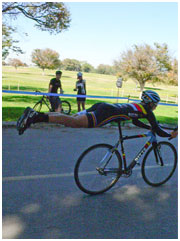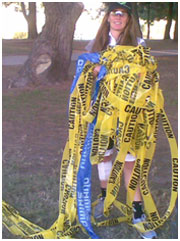 ---
November 9th 2010 - Los Angeles, CA
I biked to my class today. It was a beautiful day. The air has been so clear lately that the views of the mountains are amazing.
---
November 8th 2010 - Silverlake, CA - Round & Round
I went to a spinning class with my friend today. Wow, it is so much harder than actually biking unless you are in a race. I was just picturing biking with my friends while I was spinning my lungs out. It helped a lot imaging the ocean, climbing up a mountain and drafting with my pals.
---
November 6th 2010 - Griffith Park, CA - SoCal Cross Race

I biked up to Griffith Park to meet my friends at the SoCal Cross race which was the first cyclocross race in Griffith Park and the first bike race in 15 years. It was so great watching the riders zig zag through the dirt and jump over the obstacles. Check out Eric Steele's video's.
---
November 1st 2010 - Santa Barbara, CA - Cranky's - Ivy League

I hitched a ride with my freind Dean who was going to University of Santa Baraba to give grad. students advise on how to become a working artist. Santa Barbara is 100 miles (a century) away from Los Angeles so it's not a quick jaunt. I pushed myself to finally finish the newest batch of long sleeve jerseys called Ivy League named this because they remind me of the fall and going back to school. I mixed in some of the Desert & Forest collection and voila a new rack of SHIFTY for my friend Jim C.'s awesome bike store CRANKY'S.
So Shifty is at Cranky's. Cranky's is such a cool bike store. Jim carries really interesting products that are hard to find elsewhere and many made in the U.S.A.. Other than Shifty bike jerseys he also has Swrve jerseys, pants and jackets in stock too. Cranky's has their own Cranky's t-shirts with reflective printing, a slew of gorgeous bikes and crack mechanics including Jim C. himself who wrenched at the Bicycle Kitchen before he opened Orange 20. Yes Jim C. was the brains behind Orange Twenty and now he is the brains behind Cranky's. He continues to host and participate in bikey rides and events.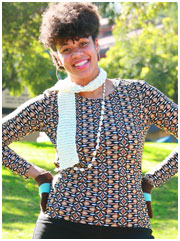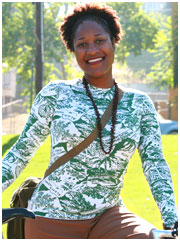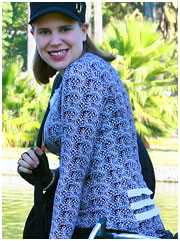 On my way back to L.A. when I was waiting for the Amtrak and I briefly met a girl named Emma who was heading back to Seatle after having biked from Washington D.C. to Los Angeles. Wow. Congrats to Emma!
---
November 1st 2010 - i Quit

Today is my tenth anniversary of having quit smoking. I went to the Mad Russian in Boston right before I moved to L.A. in the year 2000.
I don't miss smoking at all.
Tips to quit smoking:
- Don't replace it with something else like gum or candy. You are trying to quit something not replace it with a new habit.
- Don't hold things like you would hold a cigarette. ie: holding a pen like a cigarette.
- If you start thinking about smoking, think of something else, like a list or the things you have to do tomorrow.
- Take deep breaths.
- Don't watch people smoke. It's fine to be around them but don't watch them light up and inhale.
- Make a plan to not smoke after you turn 30 or whatever age and stick to it. You are too old to smoke.
- Don't count on someone else quitting with you. Do it for yourself.
- Realize that you do not need to smoke during stressful situations. Concentrate on breathing and taking walks or pacing instead.
- Once you quit you will realize how gross it makes people smell and that should be enough to keep you off it.
- You'll be able to enjoy biking more if you don't have to stop and smoke every ten minutes.
---
October 31st 2010 - Los Angeles, CA - Halloween

Hooray, it's Halloween time and everyone in L.A. is wearing a costume and there is a parade on every block. Okay, not everyone and not every block but bot Los Angelenos sure do know how to celebrate Halloween.
I biked the Pirate line of jerseys over to Flying Pidgeon today. The pirates jerseys will always have a place here at SHIFTY. Argh.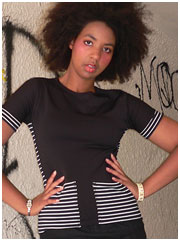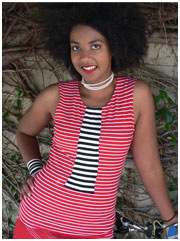 ---
October 30th 2010 - Los Angeles, CA - Kaleidoscope

I biked the new crop of awesome jerseys over to Orange 20 today. I am so excited about them. I call it the Kaleidescope line because the prints look like the are defracting a bouquet of flowers. They have long sleeves which makes them great for bike rides in Fall weather and to layer under a jacket.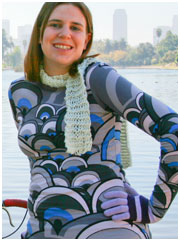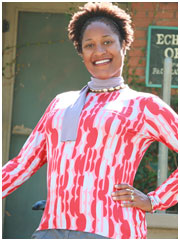 ---
October 26th 2010 - Los Angeles, CA - Flat

I was running late to school and then I realized that I had a flat tire. Boo!!! It's not only a punctured tube but my whole tire is messed up.
---
October 25th 2010 - Los Angeles, CA - No Agua

I biked my laundry over to the Launderia only to find that they were out of water. Lame.
---
October 21st 2010 - Los Angeles, CA - Pikku Sisko

We have a new kitten. She was shunned from the kitten nest and left to cry her lungs out in our back porch area. We managed to trap her and bring her inside. She now has a cute kitten playpen and a Finnish name which means little sister.
---
October 20th 2010 - Silver Lake, CA - Studio

Spent the last few days painting at the very top of Silverlake at the Paramour mansion. Amazing! I was chased today by a German Shepherd who wanted blood.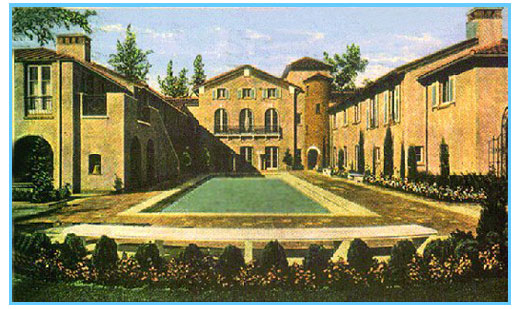 ---
October 18th 2010 - Los Angeles, CA - Studio

Enjoying the rainy day while I work on the new line. Kaleidoscope. Just made a Facebook and Twitter page.
---
October 14th 2010 - Burbank, CA - Laundry Day

Filled my large backpack with dirty clothes, went to the laundromat, put clothes into wash, went back home, filled my large backpack with dirty clothes, went to the laundromat, put clothes into wash, put clothes in dryer, went back home, filled my large backpack with dirty clothes, went to the laundromat, put clothes into wash, put clothes in dryer, folded clothes went backhome. On and on until I did 5 loads of laundry.
---
October 13th 2010 - Edendale, CA - Griffith Park

Biked through Griffith Park to go to a job interview. It is so much more hilly now that there is only one road open. Luckily I arrived early because I was pretty sweaty. It seemed to go well but who knows?
---
October 9th 2010 - Los Angeles, CA - Farmer's Market

Biked across town to the farmer's market to hang out with our S.F. buddies & our West side pals. Then off to a bikey party. We are missing the Ciclivia because we will be taking sea kayaking lessons in Long Beach. Bad scheduling but still fun.
---
October 5th 2010 - Los Angeles, CA
Rode in the rain. It wasn't so bad. I was dressed for it. I posed for a photo that my friend Cindy Hong took. Notice her Rembrant lighting.

---
October 4th 2010 - Los Angeles, CA
Today it rained all day and night as well as inside my studio.
---
September 30th 2010 - Echo Park, California - Duck Duck Goose
Up at 6 a.m., biked Downtown to Day 10 of Bootcamp. Lots of running. We re-did a performance test we had done on the first week. I definitely did better and felt stronger although there is still plenty of room for improvement.
On my way home I rode around the Echo Park lake. It was the second day that I saw a man walking around the lake accompanied by a goose. The first day I thought the goose was just walking near him and it was a coincidence but today they were walking together again. Tomorrow I'll try to get a photo.
Now I'mbiking off to Silverlake to help Michael with his film.
---
September 25th 2010 - Glendale, CA - Bike & Pedestrian Count

This is the second year of the official bike & pedestrian count in Glendale put together by Colin Bogart from the LACBC. Me, my friend and SHIFTY model, Cindy Hong joined Jenny at Brand and Broadway and spend two hours counting all the bicyclists and pedestrians. It was fun to people watch and to hang out together.
---
September 21st 2010 - Glendale, CA - Sore

I woke up at 6 a.m., biked Downtown to Day 5 of Bootcamp. took the metro to Vermont & Santa Monica, had class at L.A.C.C., biked home, watched Hot Fuzz.. My body is super tired and incredibly sore. Now I am biking my laundry back and forth to the laundromat.

---
September 20th 2010 - Glendale Community College, CA - Tired

I had a really loooong day. I woke up at 4:45 a.m., biked Downtown to Bootcamp, took the metro to Hollywood & Vine, worked 10 hours painting, bike 5 miles to this class, Photoshop-Textures which ends at 10pm.

---
September 19th 2010 - At my studio in Echo Park, CA - Sewing

I am working on the Kaleidoscope line right now. It always takes me a bit longer than anticipated to finish up. As the saying goes; "The Devil is in the details." I did do some weekend relaxing and hanging out with friends fun which distracted me from sewing but that's okay.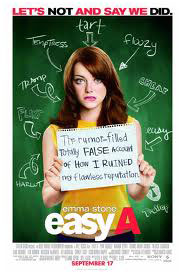 I went to brunch at Foxy's in Glendale today which was fun and yummy.
Then I saw "Easy A" at the Arc Light which was unexpectedly fantastic. We laughed and laughed.
If you saw the movie "Mean Girls" or "Saved" you are going to love this movie.
Last night was a birthday party for April and Friday night was sushi at Yuki Yama in La Canada Flintridge.
It was a lovely weekend.

---
September 16th 2010 - Downtown Los Angeles, CA - Shopping

Day 3 of Bootcamp. Suicide sprints like the ones you do for basket ball training. Ugh. I'm super tired. I can't believe it's only been 3 days.

So I was already downtown so I decided to get a bit more of the postcard Hawaii print I bought a while ago but the store didn't open until 10a.m. and I finished exercising at 7:45. So I went to L.A. Cafe which is my favorite downtown coffee place. It's a cool spot with great coffee and pastries and they are open 24 hours which is a rarity here. They have a full menu but I've only had coffee so I can't vouch for anything else but it looks good.
Anyways, after that Michael Levine's was open and I couldn't resist some fabric that I found there, 10 yards of it. Remember I am riding my bike which makes fabric buying a bit ridiculous. Finally it was 10a.m. I reached my target destination where I added 2 more yards of fabric and a handful of accessories to the pile of stuff I was balancing on my bike. I made it over to Main & 1st St. to wait for the bus. There was a farmer's market going on so I bought some delicious grape tomatoes and a freshly picked bacon avocado.
Now I am back at my studio ready to start finishing up the Kaleidoscope line that will be delivered to Orange 20 when they are finished. Next week is my personal goal.
---
September 14th 2010 - Downtown Los Angeles, CA - Boot Camp Day 1 (for me)

I started six weeks of boot camp today. I was supposed to start yesterday but I was up so late getting ready for the photo shoot there was no way I was about to wake up at 5a.m. like I did today. By 6:30 a.m. I had run a mile and done a bunch of calisthenics. It took me 10 minutes and 38 seconds to run a mile but I didn't stop running. Hopefully by next week my time will improve. My goal for the end of six wekks is to lose ten pounds and be in much better shape.
---
September 13th 2010 - Echo Park, CA - Photo Shoot

We did a photo shoot for the fall line this morning. Leesa Martling was the on the scene photograpgher, with models, Aleia, Alex and Erin. We got some beautiful shots in Echo Park, the actual park, near the lake with the backdrop of downtown L.A. Los Angeles is indeed a beautiful city.
---
September 11th 2010 - Eagle Rock / Highland Park, CA - Spoken Art Bike Ride

I joined in the fun at the Spoken Art Bike Ride in North East L.A. which is the Eagle Rock / Highland Park area. We went to several galleries including Mor York which is mine and many other people's favorite gallery and the Chicken Boy Gallery which now has trading cards. I bought a gret bracelet at Flying Pigeon made by Harv who is one of the main people at the Bike Oven. Our friend Tomatoes is displaying his World Trade Center Collection at the Bike Oven in honor of September 11th.
---
September 9th 2010 - Sylmar, CA - Ahhhhhh

Yesterday I took my bike on the bus to school. I was working on my computer and my stop arrived. I got off the bus, went shopping and only then I realized that I had just left my bike on the bus. Ahhhhhhhh. My worst bus nightmare except for that one where Jim Jarmusch gets on the bus and puts a rifle in my face.
I immediately called the bus people at 1.800.COMMUTE and they told me they found it (hooray!) and instructed me to take the bus to go to the very end of the line to pick up my bike.

I was in Glendale. My bike was in Sylmar. My class was in half an hour. My bike being more important I ran/bused to it's rescue. After a very long bus ride I arrived at Division 15 and retrieved my darling bike. There were no buses back at that time so I rode from Slymar, the Hansen Dam to Glendale College. 15 miles. I was two and a half hours late to my three hour class. But my bike is safe and sound!!!

---
September 8th 2010 - Oxnard, CA
I went biking in Oxnard California over the Labor Day weekend. I was recalling my first century which was from Oxnard to Santa Barbara and back. The riding was much shorter this weekend but just as fun. The weather was amazing, the perfect warm, Fall weekend. Sea kayaking was also a highlight. My jersey transitioned perfectly for rowing although my pants got pretty wet. Lucky for me I brought a spare pair. I saw a woman standing on a long surf board with a dog rowing down the harbor. They looked like they did this everyday. I had fantastic seafood at Cabo and deliciously tasty Thai/Chinese food and an interesting trip to the Ventura County Maritime Museum which is free.
---
September 2nd 2010 - You don't need to wear bike specific clothes but you can if you want to
You surely don't need to wear bike specific clothes for a casual ride but you can if you want to. I've ridden long rides (100+ miles) and short ones in the jerseys I have made. Other times I will wear whatever I have on. It's the difference between swimming in cut off jeans or a bathing suit. You can swim in whatever you want. I have worn the highest heals riding and I have worn bike shoes. It depends on the day and on the ride. It is nice wearing clothes that are specific to the sport you are doing because someone considered what makes the garment work best for that sport. For biking it's nice to have pockets, a longer back, quick drying fabric, sturdy, flat seams as well as a nice cut for a woman's shape instead of man's. Because I wear my own jerseys I have made adjustments to the patterns to suit my needs.

Women don't have as many choices for jerseys as men do which I realized when I was looking for some jerseys for the ALC 2005 ride. I sewed some for myself and then decided to make an entire crop of them. I did several fashion shows for Bike Summer and Bike Winter and mainly sold them and gifted them to friends. I received such a good response from those bike jerseys that I decided to market them to a larger audience.

I sew the jerseys myself in my studio in Echo Park. I have ridden a bike my entire life. I was a messenger in Boston, New York and Philadelphia in the rain, snow, sleet and hail on and off for ten years. I made many different things to try to keep dry and warm. Now that I live in L.A. I concentrate more on comfort and fashion. I am inspired by Mod, punk and 19th Century women's bike fashions.

Jen Diamond
proprietor SHIFTY
---
August 30th 2010 - L.A. Times Article on SHIFTY & other biking businesses
A hearty thank you to Cyndia Zwahlen from the L.A. Times for including us in this weeks article about urban cycling.
"...Shifty founder Jen Diamond of Echo Park makes a line of clothing for women that includes stretchy dresses and halter-style tops with reflective ribbon ties and belts. It's a contrast to the tight, logo-emblazoned jerseys worn for serious fitness training.
"You don't have to change out of your bike jersey to feel comfortable in a restaurant," said Diamond, who has no employees but collaborates on designs with two friends. Her tops sell for $65 online as well as at the Flying Pigeon and Orange 20 Bikes in Los Angeles....."
---
August 16-28th 2010 - Dudley, Ma Recovery
I am in Dudley, Massachusetts helping my mom while she recovers from knee replacement surgery. She initially injured her knee a long time ago when I was a child. We were on a bike ride, a car came by, I swerved to the edge of the road accidentally pushing my mom into a large sandy patch. She lost control and hurt her knee. It has never been right since then. Combined with arthritis she was in a lot of pain simply walking. Now, after the surgery, although she is in some pain she is feeling much better and getting around quite well. She is a trooper. She does all her physical therapy, she has a great attitude and never complains. She is a very strong woman. She should be doing much better in a month or so.
While in Dudley I managed to also get in an hour swim on the lake I grew up on, a walk in the rain, some socializing, some shopping, a visit with my old bandmate from Verago-go, the artist, Isabel Riley and hadsome Maine lobster and corn on the cob from the farm nearby.

---
August 12th 2010 - SHIFTY is born to the world
I launched this website and set up two racks of clothes in local Los Angeles bike stores, Orange 20 Bike Store at Hel/Mel near the Bike Kitchen and Flying Pigeon Bike Store next to the Bike Oven in Highland Park. There is the Pirate Collection at Orange 20 and a variety of styles at Flying Pigeon.